Thought I'd share some pics of my shop. Keep in mind that I'm just starting out and everyday I find some aspect of my set up that needs tweaking. This works for right now so I'm going to run with it for a bit.
The whole picture. A bit messy at the time - it's much neater now...
My dirty, freshly used spray booth
The green beast( I really need to look for a new oven)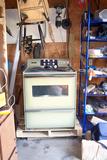 Air! and Blast
How do you guys have your compressors plumbed? I plan on black pipe but do you use a soft line to the BI on the walls? I don't think you'd want the ridgid BI going right to the compressor with all of the vibration.
Also, I've seen diagrams of air setups but I never saved one and no I can't find them. Anyone have one handy?